TSB begins 2020 as it left 2019, in a desperate scramble to cut its bloated cost base.
Insiders have told the union that TSB will announce a further wave of reorganisations and job cuts in April – centred on head office roles – and at the same time it will announce the closure of either Keypoint in Bristol or Barnwood in Gloucestershire. Whichever closes – although that's not yet been signed off – the staff concerned will be offered the opportunity to transfer to the other location. The work being carried out in the closing site will be transferred to a number of different locations including Sheldon, where many staff are sitting around with nothing to do.
When it announced its new strategy, TSB said that of the £100 million of cost savings, £34 million of that would be made up of "non-branch FTE and property" (See graphic below). The closure of either Barnwood or Keypoint is the first instalment of that £34 million of savings and no one in whichever location does not close should view the final decision as much more than a temporary reprieve. The drive to cut jobs will continue unabated.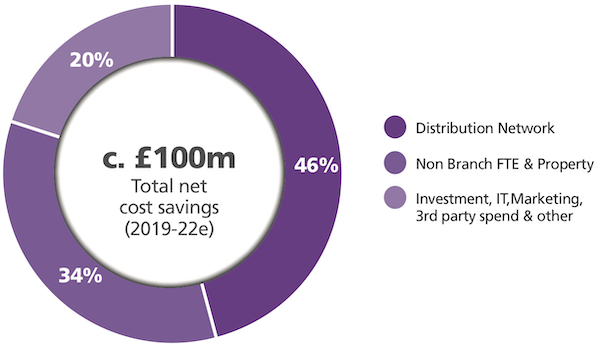 TSB will deny it's got any plans to close either building but that's what we would expect it to say. Members shouldn't forget that we predicted branch closures and job losses even before the IT migration disaster. We were right then, and we are right now.
Members in Keypoint and Barnwood should be wary of any trumped-up issues (e.g. poor performance or unprofessional behaviour) being levelled against them and suspicious of TSB trying to get rid of staff on the cheap rather than paying them the proper redundancy terms. If their performance is questioned in any way, members should contact us immediately.
Members with any questions on this Newsletter can contact the Union's Advice Team on 01234 716029.